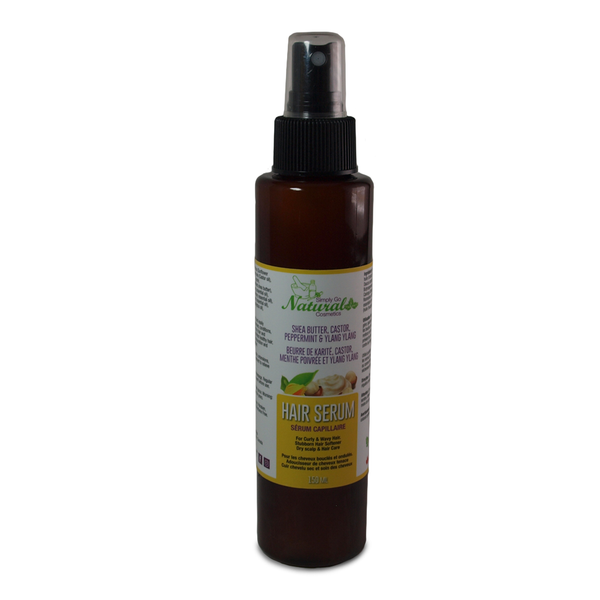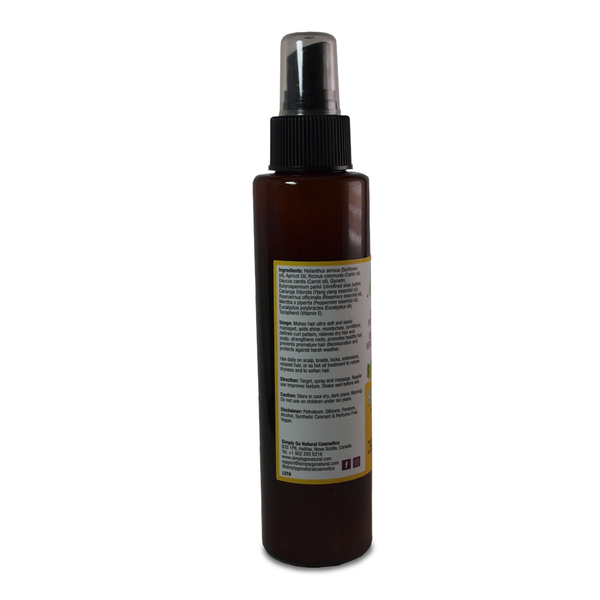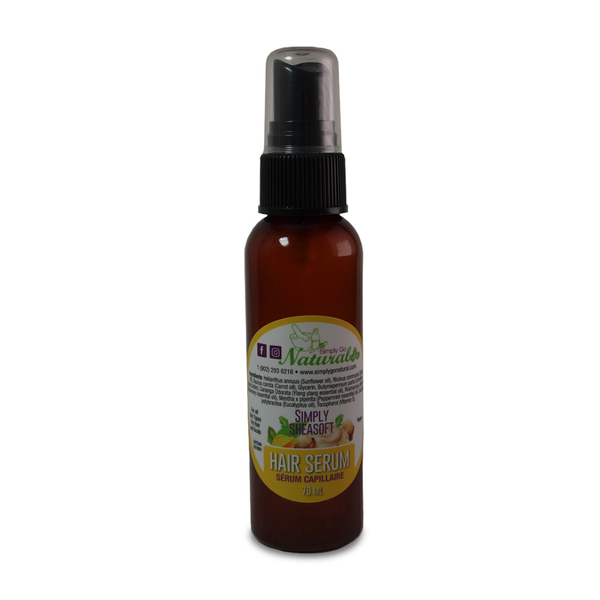 Hair Serum - Shea, Rosemary, Peppermint E.O
This hair serum is exclusive from our 'Simply Shea Soft Line' and flawlessly helps to improve the condition of your hair and make your hair ultra-soft and silky.
For a product to enhance your 'hair-care' routine and provide you with something different; Our organically produced and 100% natural hair serum is a product which you can't ignore - The hair serum is handmade with the richess in shea butter, sunflower and castor oil - Ingredients which help make the hair ultra-soft and make it easily managed.
Thanking the distinctive formula of the hair serum, it also keeps your hair and scalp away from dryness, strengthens your roots and promotes wondrous hair (The distinctive formula consists of rosemary, peppermint, ylang ylang and Vitamin E oils)

The benefits of the Hair Serum:
The serum immensely helps improve the condition of the hair; Making is super soft, and much easier to manage.
Deeply moisturizes, conditions and soothes your hair.
Effective against dryness and itchy scalps.
Helps strengthen roots and promotes beautiful hair.
Walk around smelling heavenly, thanking the sweet extracts of ylang ylang and other essential oils.
For optimal results: Please use this product in combination with our shampoo, conditioner and hair butter for the best results possible (Avoid mixing products with other brands for a truly-gorgeous appearance.
Why should I be using a hair serum?
This product (As well as all the others in the 'shea soft line') uses well-extracted, organic and natural ingredients to provide a glowing appearance to your hair, whilst also ensuring that all dryness, tangleness and damage is taken care of... This hair serum caters to your hairs desires in an exceptional way.
This 100% naturally produced hair serum is also great for protecting, soothing and caring for your scalp while on braids, locks and helps with dry itchy scalps. Even better too... Thanking the sweetly scented ylang ylang essential oil, you'll be left feeling and smelling heavenly.
 Ingredients:    
Sunflower Oil, Unrefined Shea Butter, Carrot Oil, Castor Oil, Vegetable Glycerin, Ylang Ylang Essential Oil, Rosemary Essential Oil, Peppermint Essential Oil, Eucalyptus Eucalyptus Oil, Vitamin E.
Free from: Mineral Oil, Petroleum, Silicone, Alchol, Sythetics and other chemicals.
Caution and Warning: Store in cool dry, and dark place. Do not use on children under six.
This Hair Serum was proudly handmade in Canada.
Volume: 140ml/60ml.